Trondheim Texts

During the Convocation of Trondheim the cabal decided to follow the map found many decades earlier by the Condiments, beginning a quest for Mjöllner, the Hammer of Thor. This led them to riddle after riddle, each one pointing them in the direction of the next one, and each step on the journey was accompanied with a fragment from an old legend or narrative. All of it was written in the Hyperborean alphabet, as it can't be instantly translated with the "Universal Language" spell. Here we have most of the texts found thus far:
.

The Narrative
Part I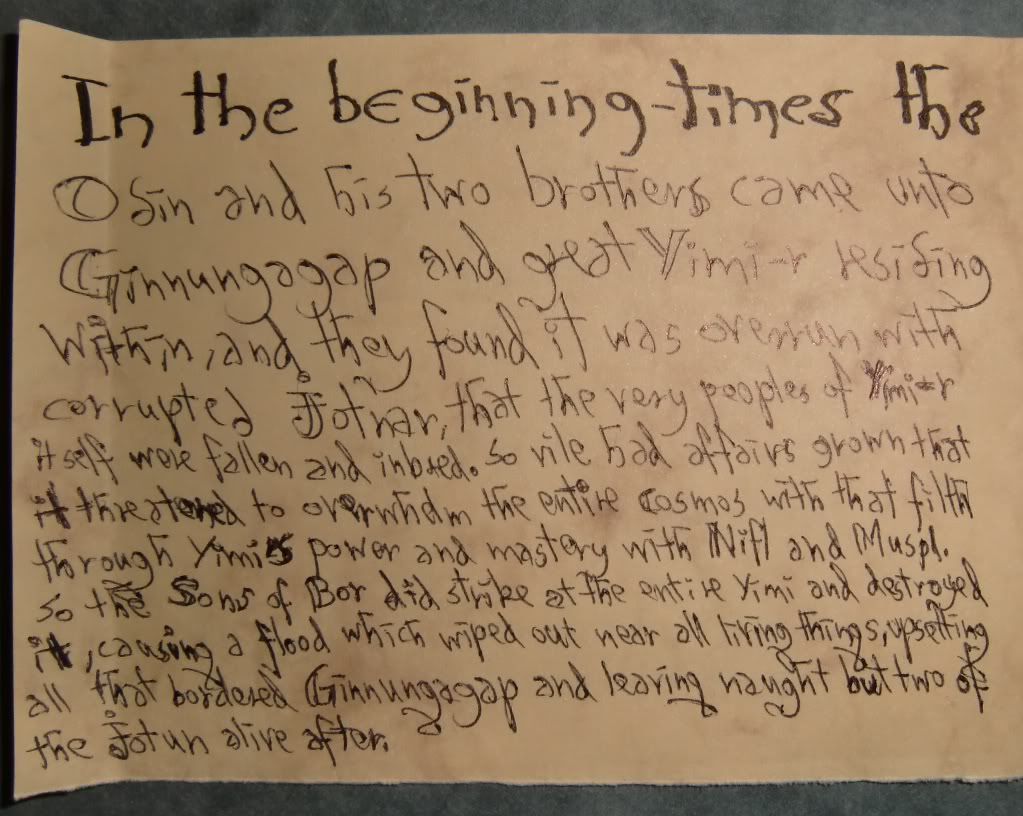 Transcription: In the beginning-times the Odin and his two brothers came unto Ginnungagap and great Yimi-r residing within, and they found it was overrun with corrupted Jotnar, that the very peoples of Yimi-r itself were fallen and inbred. So vile had affairs grown that it threatened to overwhelm the entire cosmos with that filth through Yimi's power and mastery with Nifl and Muspl. So the Sons of Bor did strike at the entire Yimi and destroyed it, causing a flood which wiped out near all living things, upsetting all that bordered Ginnungagap and leaving naught but two of the Jotun alive after.
.
Part II

Transcription: Took the three Brothers then the ruined remains of grand Yimi-r and built a world for themselves there within Ginnungagap, with dome above and ground beneath, shining day and dark night, and wind that blew and running rivers besides. Yet all the while those surviving Jotnar did grow in number and multiplied, and in a distant land outside the Ginnungagap did they forge for themselves a new dwelling, calling it Jotunheimr. Though it was but a pale shadow of destroyed Yimi-r.
.
Part III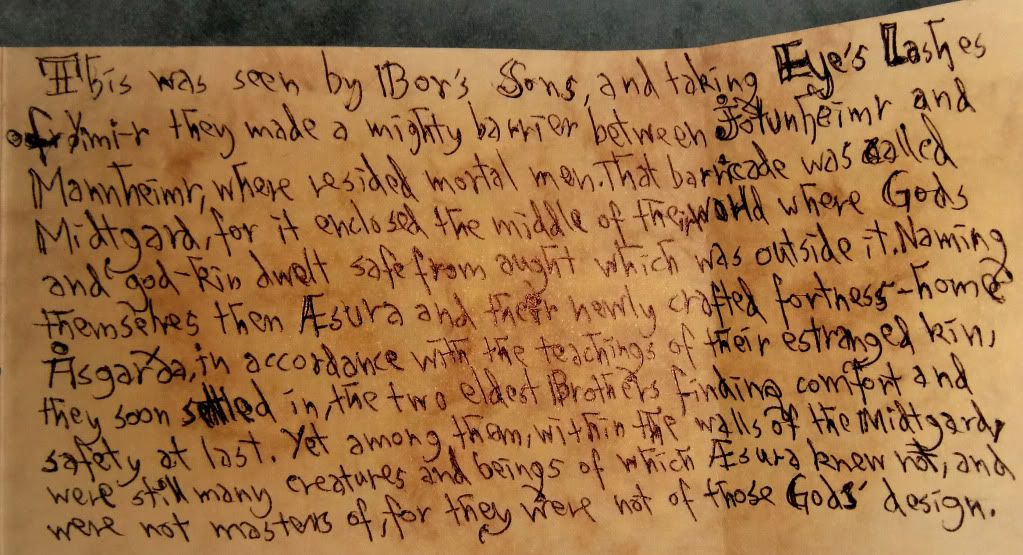 Transcription: This was seen by Bor's Sons, and taking Eye's Lashes of Yimi-r they made a mighty barrier between Jotunheimr and Mannheimr, where resided mortal men. That barricade was called Midtgard, for it enclosed the middle of their world where Gods and god-kin dwelt safe from aught which was outside it. Naming themselves then Æsura and their newly crafted fortress-home Asgarða, in accord with the teachings of their kin, they soon settled in, the two eldest Brothers finding comfort and safety at last. Yet among them, within the walls of the Midtgard, were still many creatures and beings of which Æsura knew not, and were not masters of, for they were not of those Gods' design.
.
Part IV

Transcription: And therefore the Odin set out, wanting to learn all that was in this place, for it was new to him. Vanir there were, gods who had not noticed or acted against the threat which was Yimi-r, yet who disliked the coming of the Æsura to these lands. The Vettr of that land they showed him, unlike those he had known before. Son of estranged kin he found and adopted into his household, and also a kindred spirit whom he took as a blood-brother, and many more besides. And in the dead remains of Yimi-r's form there came to be scavengers, as is the nature of things, whom the Aesira came to know as Duergar. And from the deep places of its corpus did they dig out what they could of stone and metals and power, learning what craft and secrets they could, and made out of it all new wonders to call their own.
.
Part V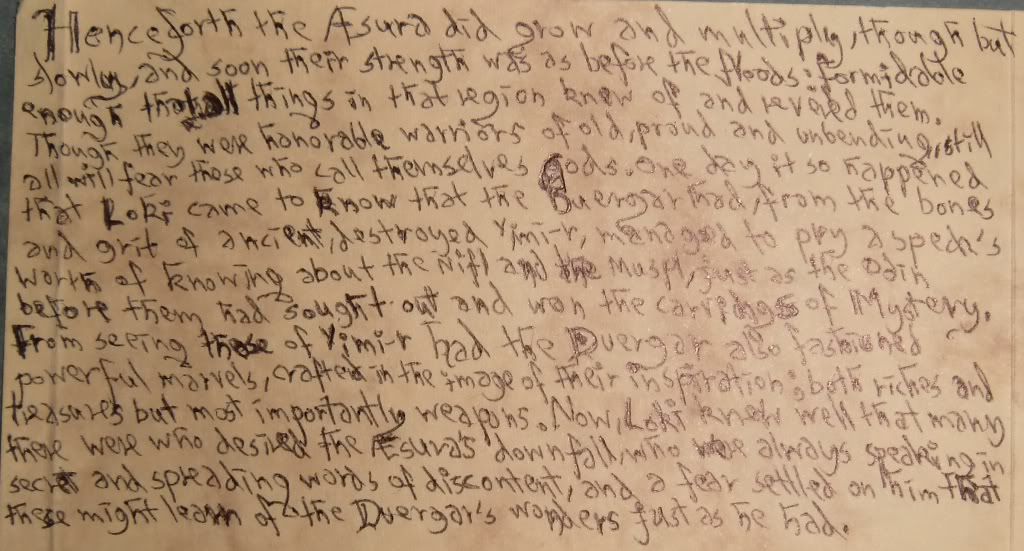 Transcription: Henceforth the Æsura did grow and multiply, though but slowly, and soon their strength was as before: Formidable enough that all things in that region knew of and revered them. Though they were warriors of old, proud and unbending, still all will fear those who count themselves Gods. One day it so happened that Loki came to know that the Duergar had, from the bones and grit of ancient Yimi-r, managed to pry a speck's worth of knowing about the Nifl and the Muspl, just as the Odin before them had sought out and won the carved signs which are mystery. And from seeing those of Yimi-r had the Duergar also fashioned powerful marvels, crafted in that inspired image; both riches and treasures but most importantly weapons. Now, Loki knew well that many there were who desired the Æsura's downfall, who were always speaking in secret and spreading words of discontent, and a fear settled on him that they may learn of the Duergar's wonders just as he had.
.
Part VI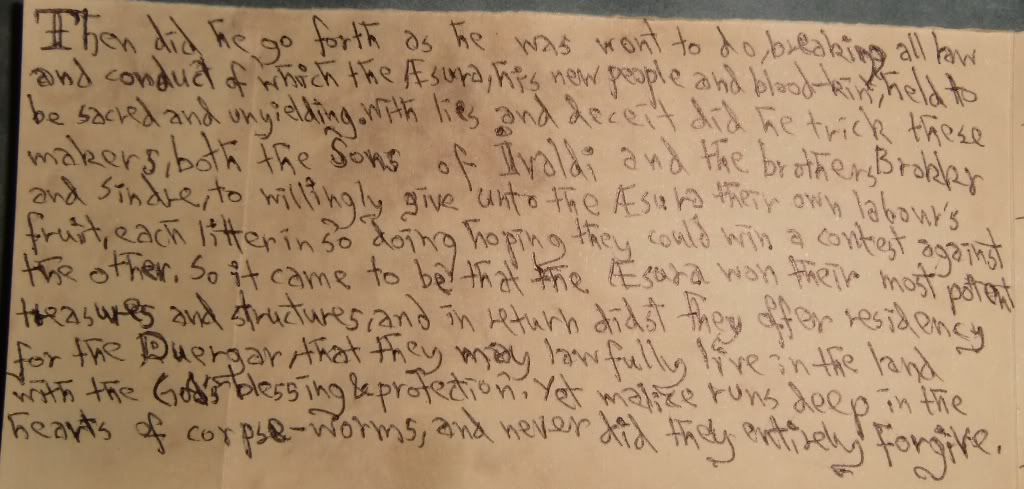 Transcription: Then did he go forth as he was wont to do, breaking all law and conduct of which the Æsura, his new people and blood-kin, held to be sacred and unyielding. With lies and deceit did he trick these makers, both the Sons of Ivaldi and the brothers Brokkr and Sindre, to willingly give unto the Aesira Æsura own labour's fruit, each litter in so hoping they could win a contest against the other. So it came to be that the Æsura won their most potent treasures and structures, and in return didst they offer residency for the Duergar, that they may lawfully live in the land with the Gods' blessings. Yet malice runs deep in the hearts of corpse-worms, and never did they entirely forgive.
.

The Riddles
(Back to top)
Buried Tablet
Trygge er Trønderne
for tidens tann tærer ikke,
veiens vokter hviler ikke,
trelldreper taper ikke,
Tors våpen.
Hederlig holde med håndflaten
heller enn titte på toppen.
Hu får han som går høgt,
hils; herren her har Tryggve som far.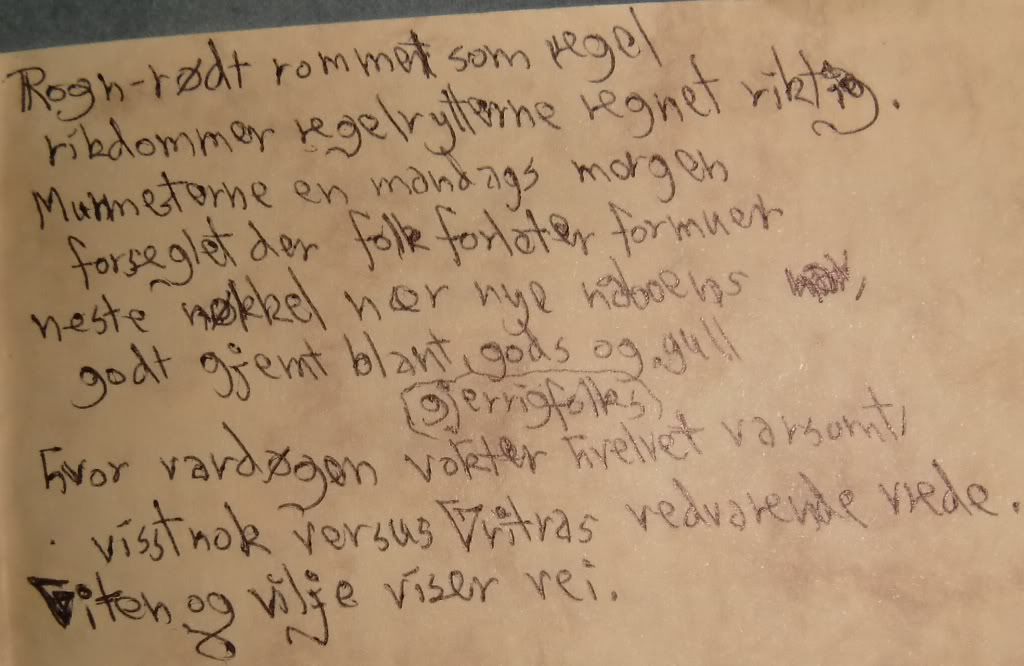 .
First
Transcription
Rogn-rødt, rommer som regel
rikdommer regelrytterne regnet riktig.
Murmesterne en mandags morgen
forseglet der folk forlater formuer
neste nøkkel, nær nye naboens nav,
godt gjemt blant gjærrigfolks gods og gull
hvor vardøgen vokter hvelvet varsomt,
visstnok versus Vritras vedvarende vrede.
Viten og vilje viser vei.
.
Second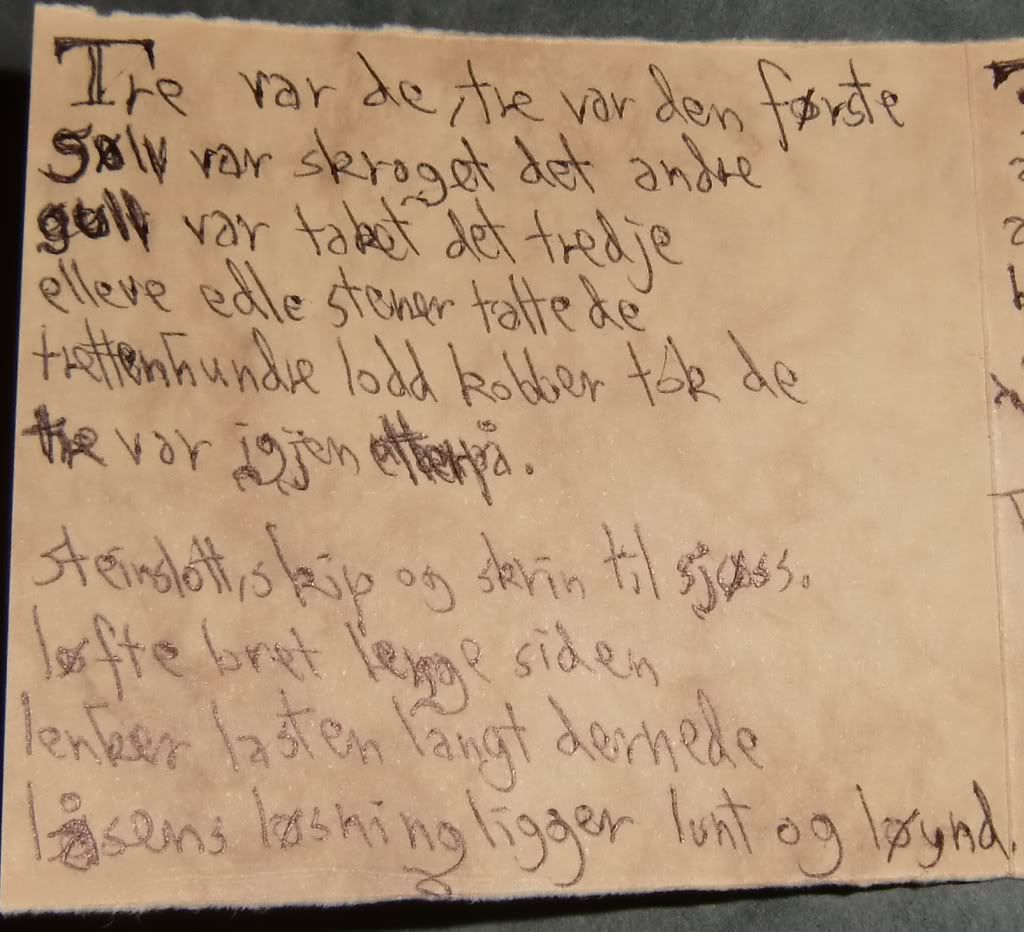 Transcription
Tre var de, tre var den første
sølv var skroget det andre
gull var taket det tredje
tolv edle stener talte de
trettenhundre lodd kobber tok de
tre var igjen etterpå
Steinslott, skip og skrin til sjøss
løfte lovet lenge siden
lenker lasten langt dernede
låsens løsning ligger lunt og
.
Third
Transcription
De dødes dyp dølges daglig
for fiskenes fjell fører forbrytere
grimt til til gravplass etter galgens grep.
Fangen forteller fremdeles ferdafolk
det valget der leder mot dagens Dom.
Munk møter Munch med munch.
Hvelvet herunder hemmeligholdes, hvor
meddeler merket meldingen mystisk
mens Midtgardsormer slumrer i mørket.
.
Fourth
Transcription
Sønnen ser skyggen sensommersolen skaper
fra farens figur frosset fast som fjell
skuer spissen som stryker selja selv
fire Fredager før Fastelavens fest
solen sitter i stolen, natten er tolv og atten
Skogen snakker sjeldent
selv om stedet skriver sin saga i skjul
så syner Urð det.
.
Fifth
Lojalt lystrer folket ledere og lover
men lusen lønn og lei lagnad
ligger på lur i livet til sjelens los.
Svik kan vi og svik gjør vi
for på svik ble dette riket bygget.
Hjemkommen herre hylledes som hederlig
brave bestemmelser ble bra begynnelse
men markant motstand møtte man ikke,
krig for krone, kone og kommune kom ikke,
for mesterlig mord i mørket markerte seier,
med moralsk middelmådig metode
På nidingsdåd av niding gjort
er dette riket grunnlagt.
Vemmelse og varige, vonde ord
er verdens lønn for Vokterne, vi som velger vist.
Husk: herrens hånd har historisk både hilset og henrettet.
når nattbrors nederlag nåddes av nødvendighet,
og som ofring oppfylte overmanns ordre ordentlig,
fant forræderen fremdeles storfolk for feige og falske.
Se saken slik: Starten og slutten er sammenhengende.
Stedet for fordums svik, seier og svineri
Smarte søkere skjønner å slutte ringen
Bebdreid ei din bør om du braver bingen
Kongeverdet kvein kvasst, men ikke kvar kveld.
.
Sixth
Transcription
Rogn var Tors redning
til Ragnarok raste og ristet riket.
Tordentemmeren trosset trofast
slangen svik hass sendte til sist.
To trær på Torshaug sammen står,
stadig skaper stedet storm
rikelig med regn og rabalder.
La lynet leke livlig, på livet løs
stå stødig, så sju skritt tilsammens
til Tors dønning tar tak.
Tvi tvi!
.
page revision: 5, last edited: 21 Jan 2012 17:20